Bucerias Mexico Fun
Bucerias Mexico, like most of the Riviera Nayarit western coast communities, was a fishing town at its inception in the early twentieth century. Bucerias Mexico is located on the Banderas Bay between Nuevo Vallarta and La Cruz de Huanacaxtle, and and easy 40 minutes from the Puerto Vallarta International Airport.
The name Bucerias translates to "divers" in Spanish; bringing us back to the town's beginning when a great deal of the people supplemented their incomes diving the shallows of Banderas Bay for oysters.
This year, (2014) a sculpted  diver was created and set out on the new part of the Bucerias Plaza overlooking the playa and Banderas Bay, as well as the recreating of the plaza stage.
Please visit the Bucerias Community Calendar  for Bucerias Mexico entertainment, events and classes.
Bucerias is well still well known for its oysters as many of the Bucerias restaurants and street merchants who offer fresh seafood and meat tacos. The Bucerias restaurants
range from amazing cuisine at Mark's Bar and Grill to the street taco vendors. Bucerias pizza places such as
California PIzza's have FREE delivery with fresh pizzas baked in their wood burning oven, or a Bucerias Beachfront Restaurant and Bar like Breakers Beach Bar, where you can order an ice cold beer or margarita with your toes in the sand, and some the very best of entertainment on the Banderas Bay can be found right here in Bucerias Mexico at Luna Lounge.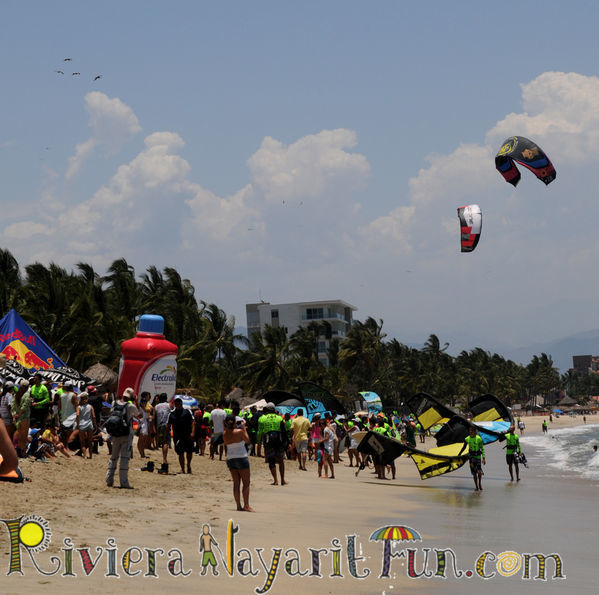 Although many of the roads are becoming paved, (watch our for holes!)  Bucerias is still adorned with cobblestone roads and street vendors of old-fashioned Mexican villages. The Mexican pueblo Bucerias with over 20,000 individuals mixes totally contemporary comforts with ancient customs and the slower, more leisurely Mexican attitude. The Bucerias Beach hosts to several events every year including the wind surfing competition.
There are many different types of Bucerias rentals and accommodations, from the deluxe beachfront condos to a more Mexican style of housing and everything in-between!
Fishing is still a driving force of the Banderas Bay economy and there are several fishing boats of all sizes available.. Huge sailfish, tuna and other large fish are routinely caught in the bay. Checkout our fishing tour page!
Situated close with  to Puerto Vallarta for shopping needs,(such as Costco, Wallmart and Sams Club) yet far enough away from the city, Bucerias Mexico embodies  the feeling of authentic Mexico which is a nice luxury.
The Bucerias Bars and Clubs and Bucerias entertainment offer a variety of music and dancing and live entertainment, yet carries a more relaxed attitude than the city. It's easy and fun to make new friends in Bucerias.