Bucerias Community Easter / Semana Santa in Mexico
Hola Bucerias Community and Banderas Bay! Easter / Semana Santa is here as Bucerias and pueblos that line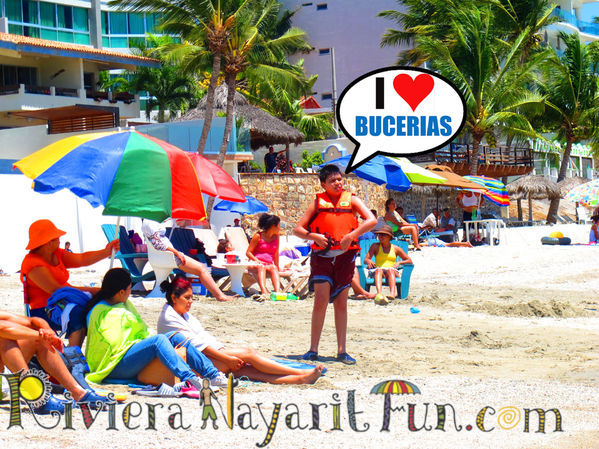 the Riviera Nayarit and Puerto Vallarta fill up with Mexican nationals. Its two weeks of crazy fun, depending on your own perspective! These are the schedules for the Catholic Church in Central Bucerias.
Holy Thursday – 8pm, Good Friday – 8pm and Holy Saturday – 8pm.
Enjoy the beach and all of the craziness that you can endure!
Bucerias Market /  Holy Week Market started today on the colibre across from Terralta, (Between Casa los Monos and Banderas Suites). Leave your car at home this week and stop on by to support local Bucerias community vendors.  As details continue to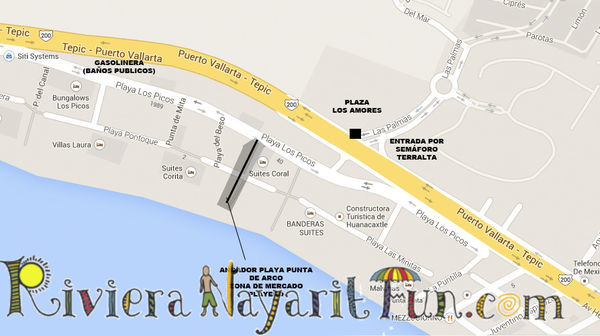 be ironed out, there is confirmation for ice cream, fish tacos, waffles, donuts, tamales, quesadillas, cards, t-shirts, coffee, a photo booth; beach games such as volleyball and yoga.  Its a beautiful square, with plants and flowers, and of course an option to spend time outside the unfinished and shady downtown plaza. April 17, 18, 19 & 20 from 1 to 7 pm.
Tonight (Thursday)  the Bucerias Art Walk is still a go, so stop by Christy's place, the Bucerias Art Walk Plaza for some free Sangria. Located between Jan Marie Boutique and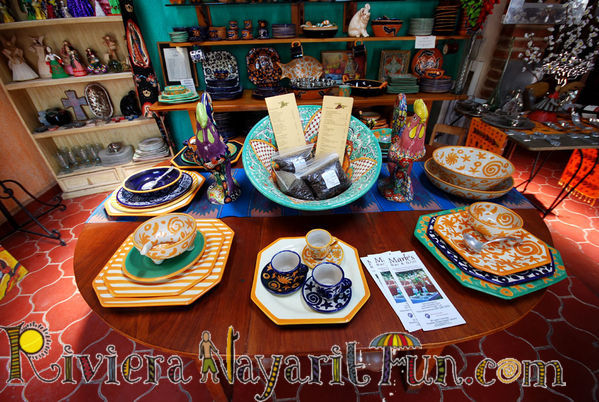 the Bucerias Art Walk Plaza is The Bucerias Gallery and Studio. Floydilou always has wine and munchies as well. She and Micheal's gallery showcases a local artist each week, so stop on by on your way to Jan Marie Boutique and the Jan Marie gallery next to Mark's, where you can find delicious Mexican wines for sale as well as fantastic Talavera tableware.   It';s a fun tine to walk around and visit the Bucerias art galleries. Find a piece of art that speaks to you for your home, or to take a piece back to your place of residence as a souvenir of your stay here in Bucerias.
Bucerias Art Gallery and Studio
Meet The Artist: Nina Di Giovanni.
Currently exhibiting 3 large abstracts at the Bucerias Art Gallery & Studio located at 60 A Lazaro Cardenas.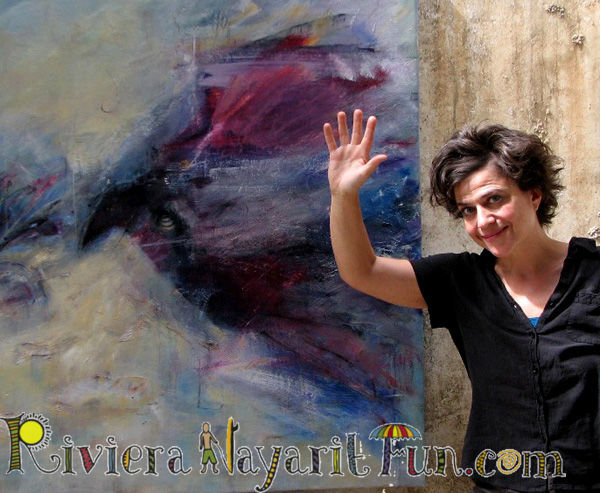 Nina Di Giovanni is an innovative, energetic,  and  dedicated artist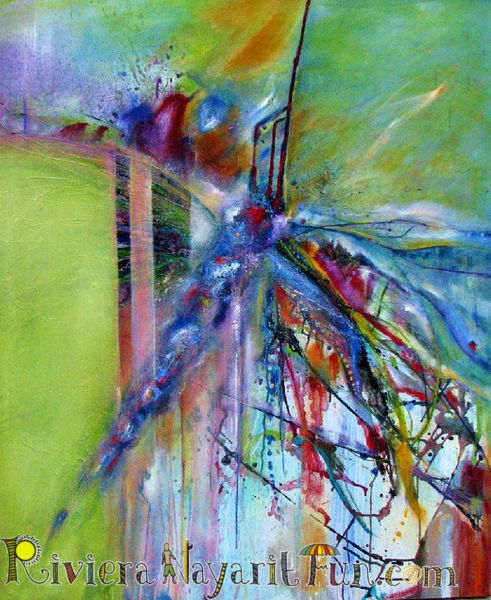 with more than  20 years experience in the world of mosaic. Born of an Italian father and Mexican mother she grew up in a richly artistic environment honouring the traditions and artistic heritage of both her parents. She has studied extensively, shown internationally in both painting and mosaics and is a unique artist in her fusionistic approach to contemporary and traditional art.  Having studied in Ravenna Italy, Barcelona Spain, and Oaxaca Mexico, she brings a fresh and unique approach to contemporary work with  a solid foundation in design and application.
Mark's Bar and Grill Easter Menu with Live Music
Join us for Easter dinner at Mark's and dine to the music of  the Doug Robinson Jazz Trio,  starting at 7pm. We would also like everyone to know that April 20th, Easter Sunday will be our last day open for lunch this season. Come and enjoy the cool patio and our special lunch menu.
Reservations call 329-298-0303 Happy Easter from Mark's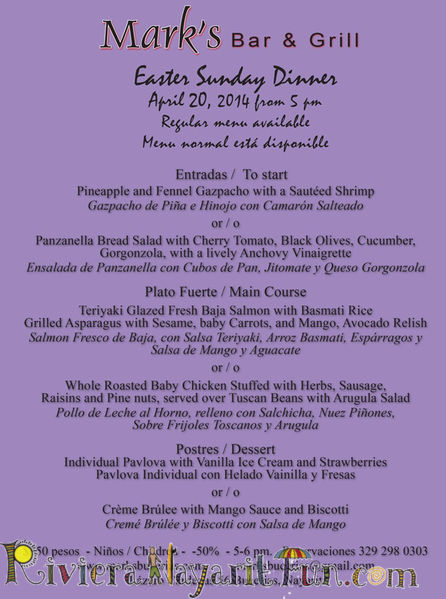 Los Arroyos Verdes Eco Paradise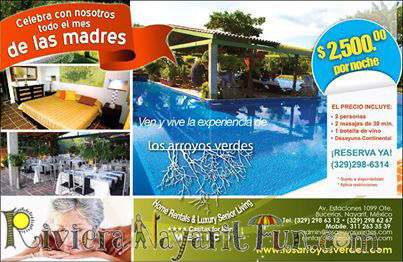 Live Music by the POOL
Saturday & Sunday
Cheko will be playing amazing music by the pool this Saturday, and Rus and Friends from La Cruz on Sunday. Join us for amazing food specials created by Chef Renee', sip on beverages and enjoy the pool for only 200 pesos.
Mothers Day Special
Two people will stay in our beautiful hotel and recieve a 30 minute massage, one bottle of wine and continental breakfast for 2500 pesos. Ejoy spending time with your mom and treat her to a special mothers day with us.
Waldorf Kids Summer Camp
Los Arroyos Verdes is also having a 3 week summer camp for the children this year! Teachers from Mexico City and Guadalajara with the Waldorf Schools are coming to Los Arroyos Verdes!
We invite your children this summer, where your kids interact with nature, learn and play, discover,…Art! The Waldorf pedagogy system in our Summer Camp! July 14th to August 15th!
Happy Easter everyone! Thanks for taking a peek  and reading the Bucerias Community news post. I love to walk the playa during Semana Santa just to see everyone having so much fun! So..stay tuned for more photos! For an FYI, La Cruz Days will also be starting up on April 25th – May 3rd if you would like to come over to another town fiesta! Click here to connect with Bucerias Real Estate Brokers to schedule viewing appointments. It's a buyers market right now in Bucerias Mexico and around the Banderas Bay!
Many Blessings of Loving Kindness
Cat Morgan