Bucerias Community Art, Markets and Events in Mexico
The Bucerias community is starting to come alive for the season as more Bucerias art shops are opening, Bucerias Art Markets, Bucerias Farmers Markets, the Thursday evening Art Walk, and new Bucerias events
being scheduled,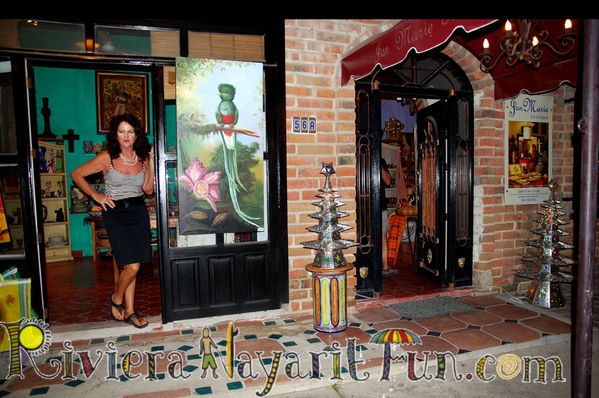 all on the beautiful Riviera Nayarit in Mexico! More folks are arriving every day, some for the season, some for a shorter visit, and all are ready for the warm and balmy Riviera Nayarit weather, seeing old friends, gathering for events, meeting new friends, music and entertainment…all Bucerias community fun! When you are  in Bucerias there is so much fun going on…so why go anywhere else?
Be sure to click on the underlined links, and click on the photos, which will lead you to the photo galleries!
Bucerias Art Galleries
In the Bucerias community there is a grand new business in town, the Bucerias Art Galleries, which is comprised of several
Bucerias Art concepts in one grand location next to the Sweet Things coffee shop.
The Bucerias Art Galleries opened the new Bucerias Arts & Crafts Market this past Monday from 9am to 1pm. Several Bucerias artists offering original art, other silver and hand made jewelry, hand made artistic furniture, framed art drawings, hand made purses and earrings, shoes and more were all set
out for the Monday market shoppers.
The new Bucerias Art Galleries has several functions.
Gallery64- Unique Arts and gallery representing known artists.
Art Exhibits – Inspired Collections, a community gallery for emerging and established artists.
Art Lessons- A place for painting classes for beginners and advanced artists, different classes offered.
Art and Antique Action Sales – A monthly event to help collectors sell and buy arts, antiques and collectables in an open action sale.
This is all quite new and exciting for the Bucerias community!
The First Bucerias Art and Antique Auction Sale
Gallery 64 will hold the first Bucerias Art and Antique Auction sale, and will be sponsoring a charity (to be announced) for each auction. The first auction will be held on Saturday, December 15th, 2012, starting
at 6:00 pm at Lazaro Cardenas #64, which is the location of the Bucerias Art Galleries. Items will be sold to the highest bidder, with no reserved bids! You may arrive early to inspect the items to be auctioned off on December 15th from 4:00pm to 5:00 pm, with the Bucerias Art and Antique Auction starting at 6:00 pm.
The items to be auctioned are: Art pieces, Antiques, collectibles, unique and other unusual items.
This is so exciting for the Bucerias community, as this is the first Bucerias Art and Antique Auction sale and hopefully not the last, as the Bucerias Art Galleries and Gallery 64 hope to make this a monthly event with your help. This Bucerias event will be fun for everyone, beneficial to a good cause, and give the people of Bucerias, Bahia De Banderas and surrounding pueblos a chance to purchase valuable and interesting items, as well as, a chance for some to receive cash for collectables and selected items of value.
Selling and Purchasing at the Bucerias Art and Antique Auction
To sell items, the Bucerias Art Galleries will accept your items at Gallery 64 on Dec. 10, 11, and 12 between 10:00 am and 5:00 pm only. You will receive 80% of the final selling price at the auction. 20% will be used to cover auction
expenses and donation to the charity still to be determined. All of the proceeds will be transparent to anyone that asks for the information.
If you would like to donate items to the auction sale, please bring your items on the same dates and location above.
The bidder registration will be on Dec. 15 at 4:00 -5:30 pm. The deposit required – $1,000.00 pesos or $100.00 dollars (US or Canadian). This is a serious auction! The pick up of purchase and payments will be immediately after the auction, and Monday, Dec. 16th until 5:00 pm. Payments will be accepted in cash, (pesos, US and Canadian dollars) debit or credit cards. For more information, or questions, please send an email to Gallery64Bucerias@gmail.com.
Monday Market Magic at 62 Lazaro Cardenas, Bucerias 9 – 1.30 every Monday until Easter!
The Bucerias community also has right next door to the Bucerias Art Galleries, and the Monday B
ucerias Arts & Crafts Market
, the Bucerias Monday Market, which is more like a farmers market that has a tantalizing array of over 25 vendors from all over the Bucerias area selling top quality jewelry and merchandise from organic salad greens and fruit to home smoked chicken and cheese; pickles and chutneys; comfort food, ready meals, authentic Indian curry, and baked goods to die for!   Tie-dyed cotton blouses and co-coordinating jewelry; fabulous handmade gourmet soaps; handmade greetings cards; bags and accessories; artisan handcrafted jewelry
and gifts; organic coconut
and coffee; feathers for your hair, recycled jewelry and art, antiquities from around the world and so much more!   Come hungry!  Enjoy the bustling, friendly ambiance of our unique market.  Call 322 102 0382 if you would like further info!
What Bucerias community fun with the Art Market and Farmers Market right next to each other, as well as the Bucerias Town Plaza Market area!
Arroyos Verdes Sunday Jazz Music Festival
This Sunday, November 18th, the amazing sanctuary of Arroyos Verdes will be having a Jazz Music Festival, and if you have not yet had the chance to visit this amazing retreat, now is the time! The huge swimming pool surrounds the stage, overlooking the restaurant and bar area. With plenty of comfortable seating, lounge chairs and umbrellas, Arroyos Verdes is the perfect place to spend a Sunday, relaxing by the pool, visiting with friends and enjoying professional service with refreshing drinks and food. It is an all inclusive price of 250 pesos this Sunday (regular Sunday is 200 pesos) as there is quite the line-up of bands you will not want to miss like Bryan Savage, Dos Mangos (Alfredo & Zoe), Cuban music with Eric, and Dublain Oldies.
For more information please email rentas@losarroyosverdes.com, or check out their website at http://losarroyosverdes.com/contact.html  Enjoy yourself this Sunday at Arroyos Verdes, paradise in Bucerias!
New Sunday Singles Night at the Luna Lounge
"Happiness is not a matter of chance but of choice."
Are you a "singleton"? unattached? Would you like to meet other singles for a fun night of live music, food and wine? Luna Lounge is excited to announce a new Bucerias Sunday Singles Club for the over 35′s

starting November 26th from 7-10pm.  Mexicans and foreigners of both sexes welcome, as this new Bucerias Sunday Singles Club is for everyone!
Choose to come along, dressed to impress, and enjoy live music, canapes and hors d'oeuvres, two glasses of wine or beer or national beverage of your choice all for $200 pesos. Purchase your tickets in advance at the Luna Lounge. You may email for questions to hugh.lunalounge@gmail.com,
Your hosts for this fun event will be Hugh and Simon, Ali and Cat.
To debut this new season event we will be running a draw to give away 2 pairs of couples tickets to the hugely popular Drag Queen Show "Crazy Bitches" which takes place every Tuesday at 9pm. Bring your single friends with you – you never know…. Join us for some Bucerias community singles fun!
Keep your eyes open for the new allBucerias.com Luna Lounge page coming soon with all of the Luna Lounge events!