Live Music Bucerias Restaurant & Plaza on Riviera Nayarit
Bucerias, Nayarit, is finally getting some strong rains, due to a hurricane out in the pacific, and lets hope its clear
this Thursday evening for the Bucerias Restaurant Miguel Angel, as they host the well known group Luna Rumba Trio in support of the Children's Garden school's new roof.
We are already on the C's for hurricanes…this recent one is tropical storm Cosme. The plants are soaking up this moisture and already starting to turn green and plump up the Mangos! The rains are washing away the dust that collects on everything from the last winter season. Nice!
Please pick up trash in your yards and the river beds…we do not want the trash and especially the toxic and harmful plastic flowing into the ocean. Taking pride where you live shows, and it shows to our visitors, which are a big part of our Banderas Bay and the Riviera Nayarit economy. They appreciate it…and Mother Earth thanks you!
Bucerias Restaurant Miguel Angel  Hosts Luna Rumba!
If you are a music lover and looking for something fun to do this week,  the Bucerias restaurant Miguel Angel
R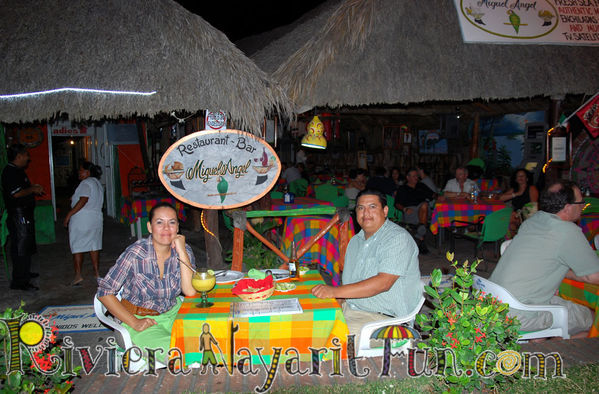 restaurant and Bar, located on the Bucerias Main Plaza is hosting the musical band Luna Rumba!
This event will benefit the Children's Garden "Emilia Ferreiro" to build a new roof, so lets support this community endeavor.
30% of the proceeds will be donated to the Children's Garden.
Luna Rumba is usually a larger band, however, this week will be the Luna Rumba Trio, with Cheko on vocals and guitar, George "Geo" Uhrich on the violin, mandolin and guitars, and Carlos Mancilla on drums and percussion. I have personally seen this band play on several occasions, and recently at a birthday party! This is the music of the heart and soul!
The Luna Rumba Trio plays music is a fusion of Gypsy, Latin, Celtic, Flamenco, Middle Eastern and Rock, all spiced up with hot Cuban rhythms.  From beautiful, romantic ballads to fiery dance pulsations, the group delights a diverse audience with its infectious sounds. Put on your dancing shoes!
This Bucerias restaurant serves authentic Mexican fare, from great steaks and lobster to juicy burgers and delicious tacos. Their bartenders make some of the best pina coladas I have ever tasted…and good margaritas too.

Join the fun this Thursday at Miguel Angel Restaurant and Bar, a Bucerias restaurant town favorite.  Luna Rumba begins playing at 7:00 pm, so you may want to come a bit earlier.
ts going to be packed! So you will want to make your reservations as soon as possible! Miguel Angel Restaurant and Bar is open all year around, and Miguel hosts for a large variety of performers, hires clowns and ice cream every year for the kids and is also a member of the local Rotary Club, helping the community in big and small ways. This list is endless of the Bucerias entertainment!
Good food, tasty drinks, amazing live music with the Luna Rumba Trio…. an event where where friends, family and the Bucerias community can come together and support the "Children's Garden" new roof project….all at the Bucerias Town Square.

Click here for the contact page or call to make your reservation now!
Enjoy the flavors of Bucerias Restaurant Miguel Angel Restaurant & Bar, where great food and good entertainment come together on the Riviera Nayarit in beautiful Mexico!